For all you j-frame queers like me. This is a limited run done by Smith for Bangers. It is a stock 442 with special stocks AND a Mag-na-ported barrel. I can tell you that the porting works very well and does not increase the muzzle blast in low light.
The big flash is using Remington 125 grain JHP ammo. It had the largest muzzle flash of any ammo we had on the range that night. The smaller flash is from Speer Gold Dot 135 grain +P short barrel load. Great stuff and notice the difference! Both of these were taken pretty much back to back with the same exposure and flash settings.
For the record, none of these have been photo shopped like you see in some of the magazines. This is the real deal!!!!
Big flash with Remington 125 gr. +P JHP
Photo Camera 1
A close up of the Remington ammo. You can see the path of the bullet through the smoke.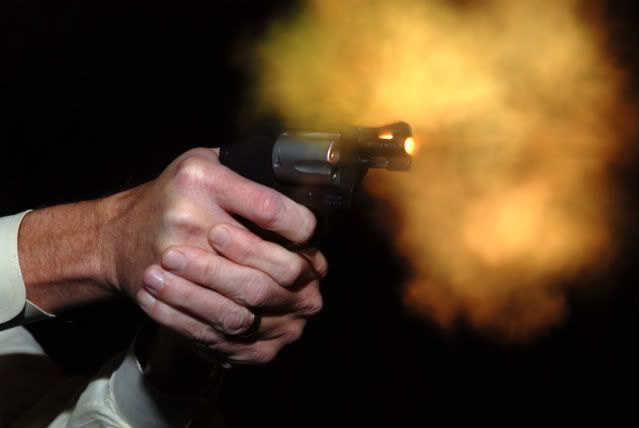 Photo Camera 1
Gold Dot's 135 gr. +P did much better.
Photo Camera 1
With CTC LG-405 Lasergrips installed. The best of both worlds.