Some of you may watch Tom Selleck's new TV series "Blue Bloods." Tom Selleck plays a New York City Police Commissioner whose whole family are in LE and always get in trouble, save the day or both. Several weeks ago, the commish's father, a retired NYPD Commissioner, said to his son, I see you're carrying my old Fitz. My eyes perked up; unfortunately, they did not show the holstered sidearm.
Well tonight, Selleck gets to shoot a bad guy and it is obvious that his revolver does not have a trigger guard.
My digital photo taken from the TV is not great, but dammit, that's a FITZ.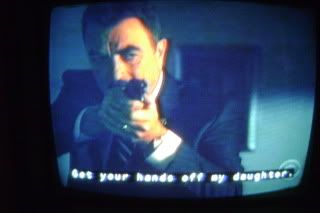 It's not a bad show, and any TV show starring Tom Sellek
and
a Fitz cannot be bad.
ML