I don't recall seeing anything about Automags on LTW. I have seen them asked about on other forums, and a lot of the info in responses was skimpy or just plain wrong (They are recoil-operated, not gas) . I'm no expert and wouldn't even call myself a collector, but I have owned a couple for several years now and have learned some things...both the easy way and the hard way.
I have two. Both are TDE guns. One is chambered in .44 AMP (AutoMag Pistol) with a 6-1/2" barrel, and was made in North Hollywood, CA. The other is a .357 AMP with an 8-1/2" barrel, made in El Monte, CA.
You may see some crud on the guns in these pictures. I shoot them.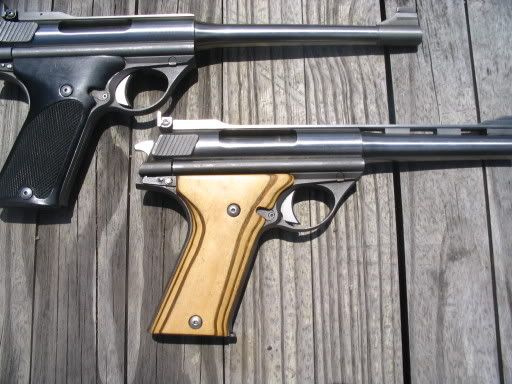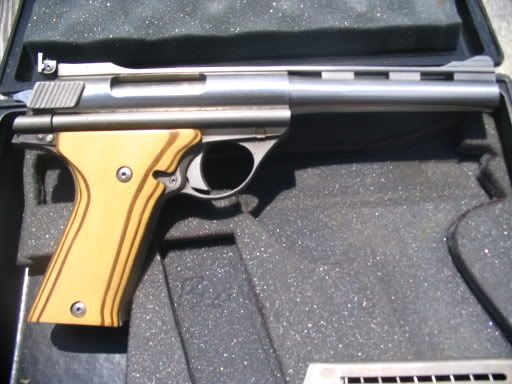 While probably the most "exotic" guns I've owned, they are pretty run-of-the-mill as Automags go. For something made for such a short time, and with production never really getting going before moving the factory, there are a lot of variations.
The guns were designed by Harry Sanford, who is probably best known for later running AMT. The guns were made under at least four maker's names, and in at least three factories.
The first were made by the Automag Corp in Pasadena, CA. Excepting truly limited models, the "Pasadena guns" will usually sell for more money than other varieties. They were basically hand-made, and have the best appearance. On the other hand, later models benefitted from upgraded materials changes as they occurred. "Production" got going in late 1970 or early 1971, depending on the source. It's not that important because this company soon folded, as it cost more to make the guns than they sold for.
The next figure was TDE, which stands for Trust Deed Associates. As you can guess, this was not a gun company. Instead, it was an operation that invested in oil leases that were thought to be unproductive, and other lost causes. Knowing this, buying the Automag operation seemed natural.
Production began in North Hollywood, CA, using some Pasadena-made parts, with newly manufactured parts phased in as needed until they eventually made complete "North Hollywood guns".
Then another move, this time to El Monte, CA.
Enter High Standard. There are some High Standard-marked Automags. These were supposedly all made by TDE in El Monte.
At some point, the guns were marked "TDE/OMC", then just "OMC". All info I've seen is really fuzzy here about when and why this occurred, and even who OMC is. Outboard Marine Corp is one I've heard.
Arcadia Machine and Tool (AMT) formed somwhere in here, and the last Automags were AMT marked. It's the opinion of many that very few parts were made after the existence of AMT. Guns were assembled from parts. There are plenty of AMT-marked barrel extensions (upper receiver) out there, but they were probably marked long after they had been made.
This was about the end of the line.
All of this happened roughly between 1970 and 1975. With all of that change taking place in such a short time, it's a wonder they got any guns built.
When production ended is debatable, and it depends on your definition of "production". Most sources claim 1975 was the last year, but there is evidence that guns were shipped out under AMT at least as late as 1980. These were no doubt "parts guns", but it still counts. The Dirty Harry movie "Sudden Impact" which features an Automag came out in, I think, 1983. There were at least two guns put together for that movie.
Enough history. Let's talk about the guns.
They were unique, and there still is nothing quite like them. Then again, when I look them over, I see very little, if anything original to the design. I can see parts of several different guns- from High Standard .22 target pistols, to the Browning M2 .50 cal MG.
It's the combination of features that's unique.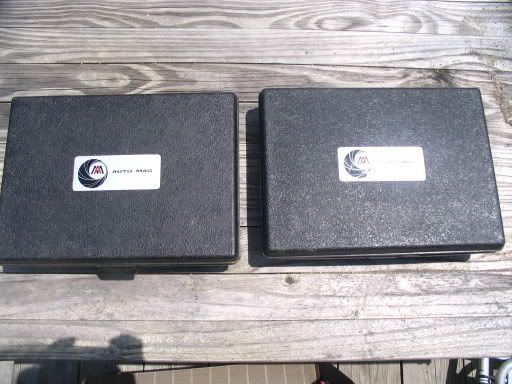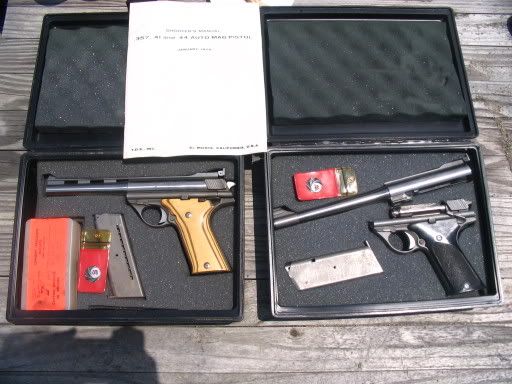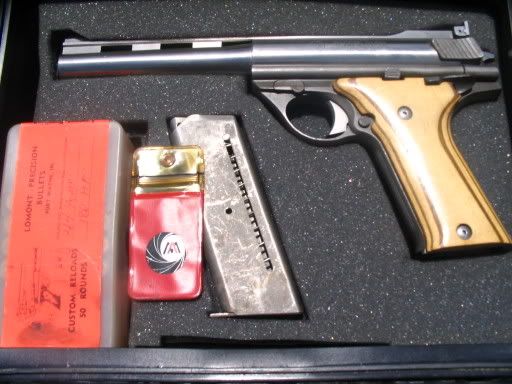 They are recoil-operated. Upon firing, the bolt, barrel, and barrel extension move rearward together for a short distance. The barrel extension has a sort-of T-shaped lug that rides in a matching track in the frame. It is also guided back by Walther P38-ish recoil spring rods- one in each side of the frame.
Once the barrel/extension/bolt come back around 3/8", a part in the extension called the accelerator contacts the frame and pivots around itself,. "kicking" the bolt back from the extension. The Browning M2 .50 has a similar part, working a similar way.
Picture showing amount of travel when bolt starts to unlock:
It has a six-lug, rotary bolt that reminds me of an M16 bolt. It is slotted for a Bolt Rotating Pin at the rear of the frame. This slot is cammed at the back, which causes the bolt to rotate around this pin to unlock when the accelerator throws it open. The bolt continues back like most other semi-autos, then is returned forward by the twin recoil springs. A long skinny firing pin runs the length of the bolt.
Pictures of the bolthead: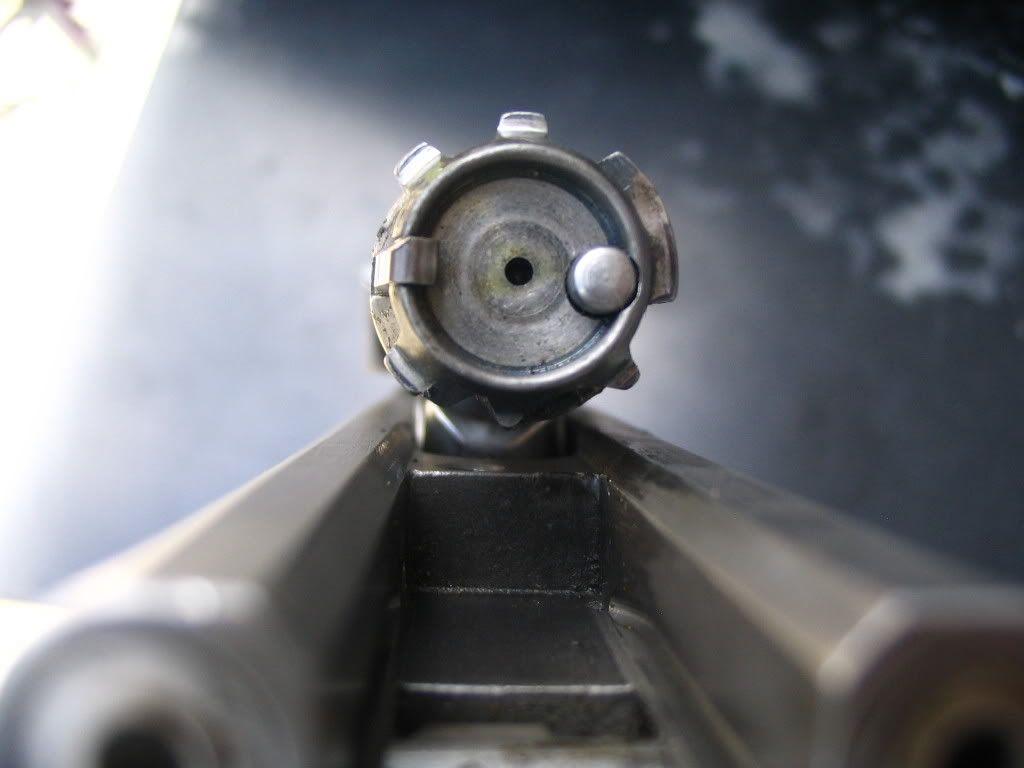 In this next picture, if you look closely toward the rear of the bolt (RH side of pic)you can just see the Bolt Rotating Pin. It reminds me of an M16 bolt cam pin.
This cycling of the bolt happens pretty quick, and the cartridges are fairly heavy (as auto pistol rounds go), so the magazine has a rather stiff spring. Otherwise, the magazine could not keep up with the action.
But it does cut the recoil, or at least spread it out. Recoil is a subjective thing, but I find it a lot easier to shoot than a 44 Mag revolver, or a Contender. It's like the "slow push" that is often described, but it's the best description I can use here.
You may notice that the barrel on the 44 is ribbed, but the 357's barrel is plain. That is due to weight and the recoil-operated action. Although the 357 barrel is 2" longer (8-1/2" vs 6-1/2") they weigh the same. The barrel and barrel extension assemblies have to weigh the same for the gun to function properly. If you see various caliber and length custom Automag barrels, you will also see a variety of plain, ribbed half-length ribs, and barrel contours for that reason.
It's an easy to shoot gun, and only part of that is due to the dampened recoil. The trigger is very good. I've been told by those familiar with both guns, that the trigger appears to be based on the High Standard .22 auto pistol trigger. It is adjustable for takeup and overtravel. Overtravel is adjusted by a set screw through the trigger face. Takeup is adjusted via a screw in the top of the frame, accessable when field stripped.
Fieldstripping is easy, but can be painful if you don't know a couple of tricks. First, verify chamber is empty, and insert an EMPTY magazine. Cock hammer. Pull bolt open, which is locked open by magazine. The takedown lever is on the LH side of the frame, fwd of the trigger. It is pivoted clockwise/down. The barrel and barrel extension can now be slid forward off the frame, completing field stripping.
The reason for using an empty magazine to actuate the bolt stop is because your hands will be full overcoming the string recoil springs, then finding and actuating the slightly small bolt stop. Cocking the hammer first will make opening the bolt easier. I sliced my hand open on the sharp-edged rear sight wrestling it open the first time.
In addition to heavy springs, it is a tightly-fitted gun, which makes opening the bolt even more difficult.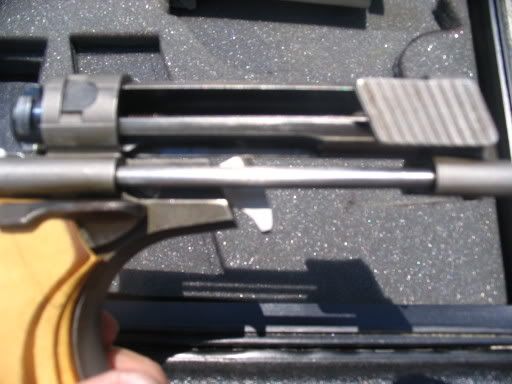 The controls are located similarly to the 1911. The bolt stop is where a 1911 slide lock is. The magazine release is in the same location, snad so is the thumb safety. The thumb safety will also act as a slide release. By pushing it down past the "fire" position, it will move the bolt stop down. It is actually the easiest way to release the bolt.
The sights are a nice attempt. The front is a then-fashionable red-painted ramp.
The rear is a good design, but is made out of unfinished stainless steel. It shows up very well, but would be better if black. It is adjustable, and, according to the manual, each click offers 1 MOA correction. The screws are hex head, so it would be more convenient if they were slotted.
On the other hand, two supplied allen wrenches will handle every screw on the gun- adjust sights and trigger, and remove/tighten the grip screws.
Ballistics.
If you read the old articles, the Automags were cannons. I've read articles fom the early 70's where they got 1600 fps or more with 240 grain bullets. I'm sure they did.
The writers of those articles also cracked a lot of bolts, broke bolt cocking pieces, and spent some money on other parts.
If you have an Automag, use recent data for reloading. The old data is interesting, but it's also kinda scary. There were some chronographs outside of labs then, but there weren't many pressure testing dvices in private hands.
There is plenty of recent data available, but you may have to look. Hornady included the 44 AMP in their manuals for quite a while, and maybe still do. Hodgdon has data. There are other sources.
While the old articles claimed otherwise, the 44 AMP is basically a .44 Magnum. It may be capable of more, and the .30-06 or .308-based case can surely stand it, but the gun may not. Parts can be had, but the major ones, like a new bolt, are very expensive.
It's usually written that the Automag requires a full-power load for proper function. That's about right with mine. My usual load fires a 240 grain bullet at just over 1400 fps. It's about the minimum to function with a little leeway for a dirty gun.
I think it's enough.
The .357 AMP is perhaps more interesting ballistically. It is the 44 case, necked down. I've seen data that launch 158 bullets to 1800+ fps, and 125s at 2000. Actually, I've seen higher, but it's probably scary stuff.
I'd like to work with my 357 more, but haven't done it yet.
Original CDM 44 AMP cartridge and reformed 357 AMP case:
What Are They For?
Well, that's hard to say.
They would be fine for hunting. Better than a Contender? Maybe not. They sure aren't easy to scope. The accuracy is there, though. My "light" load averages 1.7" at 50 yards from a Ransom rest (Yes, they do make inserts for the Automag).
I have used the 44 in Bowling Pin Matches, and it did just dandy....for a while. It needs plenty of lube to function; and that lube, combined with the slow burning powders used (which leaves particles all over) creates a pste after a few magazines that will gum up almost any gun.
It sure took the pins off, though! And shot to shot recovery was easy.
What are they for?
Just because, I guess.
Heck, I think they look good. I guess that's enough reason.