The squared trigger guard is one of those things that represents a certain 1911 cutomization era, somewhat like having a 1911 slide with S&W sights. People are still diggin' on the retro look of the squared TG; it adds a look and even if you don't use it, there's no downside. Other mods from that time frame like the above-mentioned sight and, some would argue, the full-length guide rod, bring no functional or ergonomic advantage, just nostalgia. We see less of these which I believe is because they actually bring some disadvantages, abniet minor, depending on the individual and the intended use of the gun.
The squared TG, I got on that train right away, since all the top shooters were doing it. It also was something I thought I could do well on the gunsmithing side so I looked for opportunities to do it to anyone's gun I could! The actual use, in shooting, of the squared TG is almost totally passe these days. You rarely see professionals doing it any more although there are a few. I think a big part of it is the inconvenience of becoming dependent upon it, and then having to use a gun without it.
I personally do, very much, still like the look of it although I have not used it since maybe the late '80's. I have one friend who is still very locked-in to the technique (see High Mileage Comes to Town). For myself it was the above mentioned issue of not wanting to get tuned it to it to the point where "I can't shoot that gun, the trigger guard is not squared and checkered". Also, holsters. Lou Alessi made me a few specials for squared TG's but it became just too much of a pain.
But…. I still totally love the look of a squared TG. Jason does them so very well and I enjoy those pics. It had been a while since I'd done one, so I was not about to decline doing it for this guy. But first a couple of my early attempts:
This one is from 1981 and is a re-do; I originally did it right after I bought this gun in, I believe, 1976. I had read a "how to" article by George C. Nonte, and tried my hand at it in Dad's basement shop. It turned out fine but as I matured as a toolmaker I went through a phase of doing everything by EDM. I also had more access to things like good TIG welding. Where the original version had been silver-brazed in place, this one is TIG'd on and the gripping pattern is EDM'd on.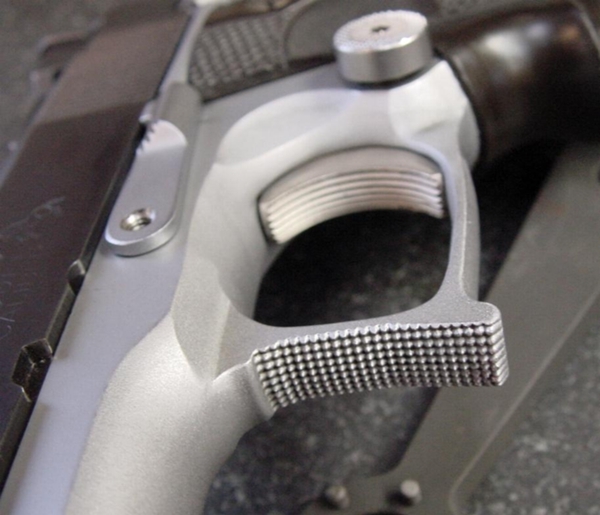 This one's from a few years later, 1983, and I never really completed this project: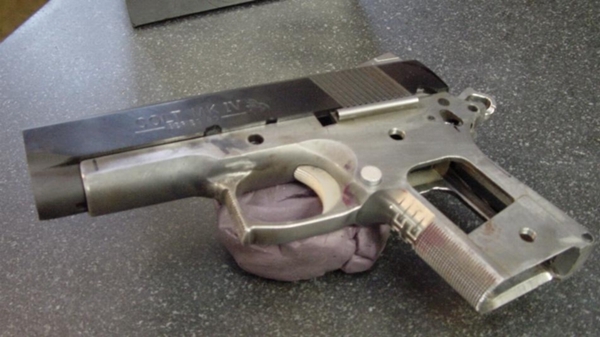 And the current one. The bottom horizontal still has about a three-thousandth "belly" in it—just enough to see—that has since been stoned out. Mid-FRAG on the front