This is the latest J. Timmons Vintage Custom 1911 that is ready to head back home to it's owner in Connecticut. We started with a new Colt carbon pistol. My client said that he wanted a classic, vintage looking pistol but one that performs with the reliability of a modern combat gun and the accuracy of a bullseye gun. He had some ideas in mind of what he wanted the pistol to look like but he also gave me enough latitude to do my thing and make the pistol fit into the style of 1911 that I like to build. To say that he is a good customer is a understatement. He has been a custom gunmakers ideal client in every way.
I started the build by welding up the frame rails and refitting it to the slide. I then fit up a Bar-Sto match grade 9mm barrel. Every internal part was replaced with the highest quality aftermarket parts that are available, including Harrison Design controls and ignition system. I checkered the frontstrap and the mainspring housing at 30lpi. It has a gold bead front sight and a modified Heinie rear sight. The top strap and back of the slide is serrated at 40lpi.
Something that I take a lot of care in doing is surface prep and metal finish. I hand polish every part of my guns, inside and out. I don't own a buffing wheel and there are only a very few parts that I bead blast, like sights, trigger and serrations. Each part is hand polished to varying degrees of brightness. I am particularly careful to keep all of the edges of each part and all of the lettering extremely flat and crisp. After all of the lines of the gun are straightened, and everything has been flattened, sanded and polished, I then hand burnish each part to bring it back from a high polish to a satiny sheen that gives each gun that subtle, vintage look that is reminiscent of the fine guns that were hand polished many years ago. That classic look cannot be achieved with machines.
My client wanted this particular gun to be a two tone so the bottom half was shipped out to the plater to be hard chromed.
I blued all of the parts on the top end in my shop. Bluing is another part of the process that I take a lot of pride in. There is nothing more satisfying than pulling a nicely polished part out of the bluing tanks and admiring the flawless new color.
The elephant ivory grips were supplied by Gunner grips. They are magnificent. I also made a second pair of claro walnut grips to go with the pistol. The beautiful photographs were taken by Scott Baxter of Texas. I hope that you enjoy them. Thank you, JT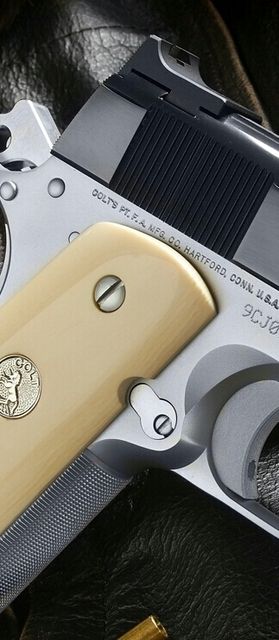 _________________
J. Timmons & Sons Custom 1911 Pistols
South Carolina
864-558-1911
www.jttimmonscustom1911pistols.com