I ran across this as a Word Doc on my computer...... I either posted it and can't find it or never got around to posting it, but anyway, yes it's a blurb for the Shield Driver sight but also I think some useful info about dovetails in general. Looks like I wrote it in 2015:
When your rear sight looks like this, you've got a problem:
It's not just cosmetic, it's a durability problem and when it comes loose it's a point of impact problem and that could be huge. As a 'smith and instructor / class armorer, I've had I don't know how many shooters come to me with
my rear sight is loose
, or
my rear sight is way off to one side
, or even,
my rear sight fell out
. With a more accomplished shooter it might be recognized at the target first, like, my point of impact is creeping to one side, or my groups are wide left to right.
Unfortunately it's the way dovetails are often done these days, as a manufacturing expedient. It takes more time, obviously, to get a perfect press-fit on a sight; it's so much easier to make it all a slide-in fit and use Loctite and/or a setscrew to hold it together. They usually stay together OK on the safe shelf but when you take them out and run them, they come loose.
My Shield Driver sight is made a little oversized to help compensate for oversized dovetails. It might not be big enough for some I suppose but I have not yet found one it wasn't tight in or need some fitting for. Here are some Shield Drivers installed: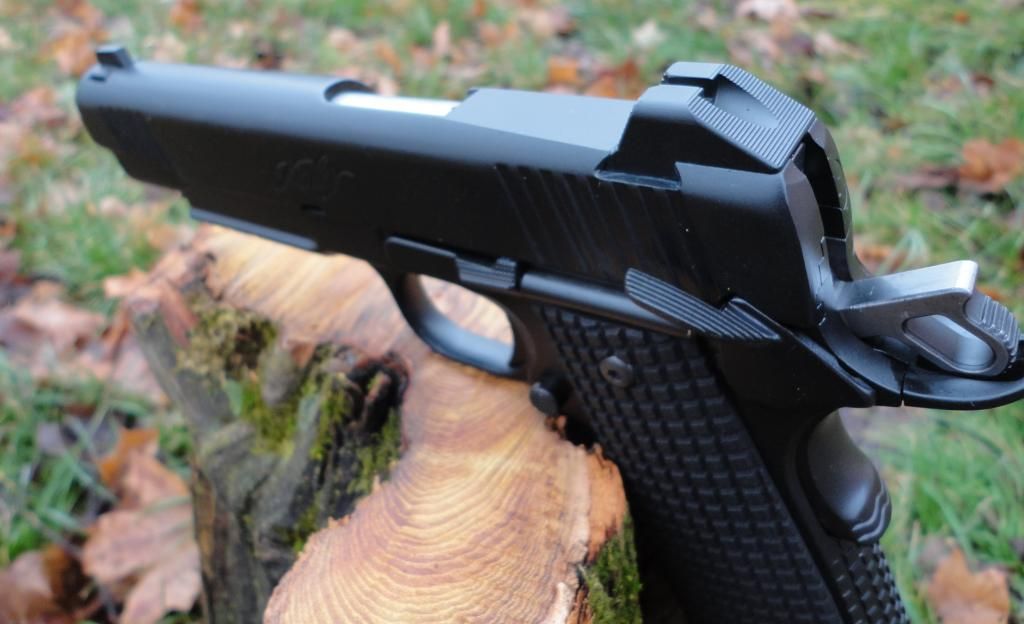 The Shield Driver does not have a set screw. The way I fit rear sights, they are good and GD tight; in place of Loctite I install them with oil and anti-seize compound. They ain't falling out! Downside, to adjust for windage you need a real manly sight moving fixture. There is room for a gunsmith to drill and tap for a set screw if there really had to be one. I imagine some people are so used to seeing them that they may be uncomfortable without one.
The Shield Driver only comes in the white for gunsmith installation….. it's really not meant for a kitchen-table, drop-in kind of scenario, which I know has limited its market quite a bit. If you want your guy to put tritium in it, the process would be to fit the sight, zero the pistol, drill for tritium, refinish the sight, and install tritium. A bit of a journey, I'll admit. My default method for refinish is to blast and Parkerize the sight, then give it a thin shot of Gun Kote, bake it on and send for tritium. It's not as tedious as it sounds, I do a super-small Parko process where like 6 OZ of the solution is in a small jar, in a sauce pan of boiling water. It's quick and effective and I don't have deal with a big tank and heating it up.
Here I've drilled one for tritium. Tools left to right are, a .078 pin to put in the chuck to pinpoint where I want it relative to the bottom of the notch, after indicating center. Then a .093 end mill to spot face a flat spot to start the hole—since I am putting the hole it at 10 degrees down-to-the-front. Then a .062 ball end mill as a center drill; then a .067 drill straight through, then a .076 drill to the depth where I want the tritium insert to stop. I go extra deep, below flush (front and rear). It keeps the tritium shrouded except to the shooter. Lastly I go in with a 10 degree tapered cutter to open a sight line to the insert.