I've made some design changes to the MOACKS Plain, this is the version that does just the staking of the carrier key and does not counter-stake the carrier key screws. The tool uses socket head cap screws, precisely ground to length and profiled, then flame-hardened on the ends, to make the stakes. Upgrades consists of going from 10-32 screws to 1/4-28, and angling the screws. This reduces the chance of the staking process causing distortion to the body of the key at its width. Honestly I've never had a complaint about that but it's always bugged me that sometimes it happens. This is because the narrower part at the top of the key has some pretty wide-open tolerances. This narrow part is there expressly for the purpose of "absorbing" the staking, in other words, to ensure that no part of the staking goes wider than the body of the key..... with the old design it does happen sometimes and it's covered in the instructions: "file it off". This should be much less necessary with the new design, but still to be watched for.
Gage change-- actually nothing to the gage, but to the handle. I've had a few iterations of the handle over the years, always trying to find an easier (YES, I mean "cheaper") way to make it, to keep from having to pass on increased costs. Well, I finally found a way to make it a little more expensive, but with, I think, a lot of value added. The handle is now larger in diameter, and like with my .223-to-5.56 reamers, offers self-storage of the gage. Remove the cap, drop the gage out, screw it to the handle, and start gagin'. Keeps you from losing or dinging up the gage-- although it is hardened and pretty ding-proof.
I've gone to lengths over the years to not raise prices-- for a lot of reasons, but one is simply that it's a pain in the butt to do so. But the time has come on these two products to do so, so:
MOACKS Plain, formerly $75, now $85 with upgraded screws and relocating of same.
.223 or 5.56? gage, formerly $44, now $50 with self-store handle.
As before most things "must" go Priority Mail at $10, that's $10 for one thing or a bunch of things ordered together. I will ship the gage though, First Class for $5.
Descriptions at
http://www.m-guns.com/tools.php
I think it's been seven years since I changed the price of anything!
The new MOACKS Plain with angled, larger staking screws: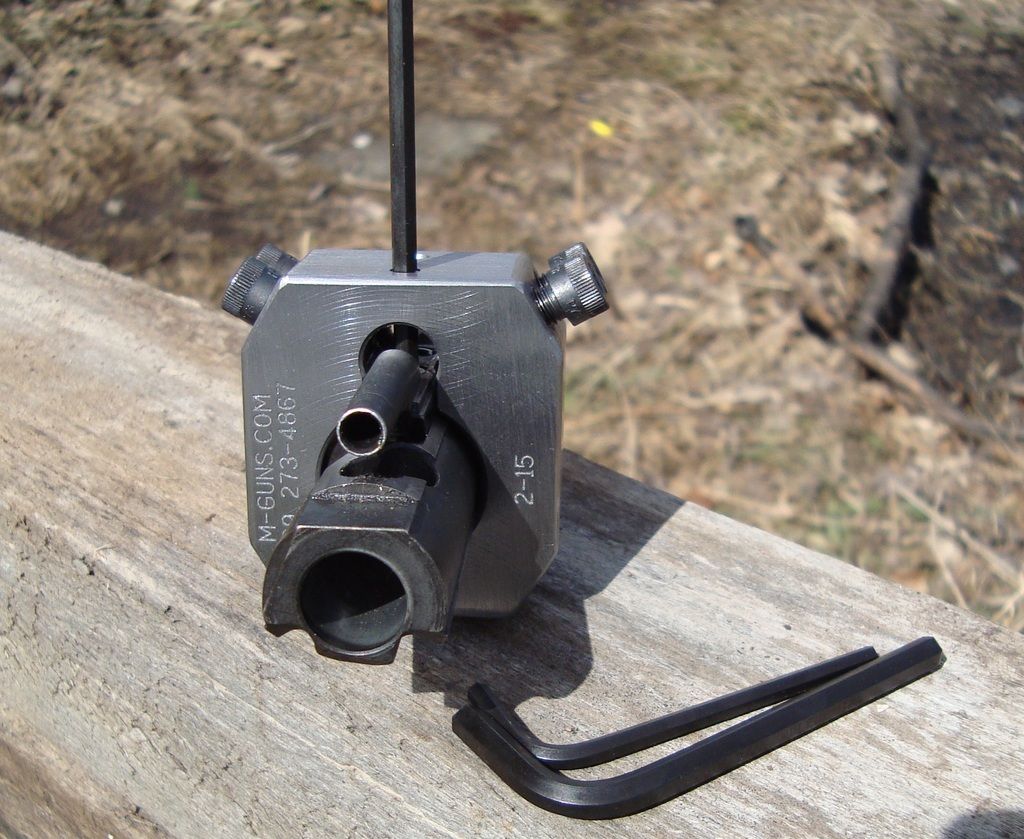 New gage handle: