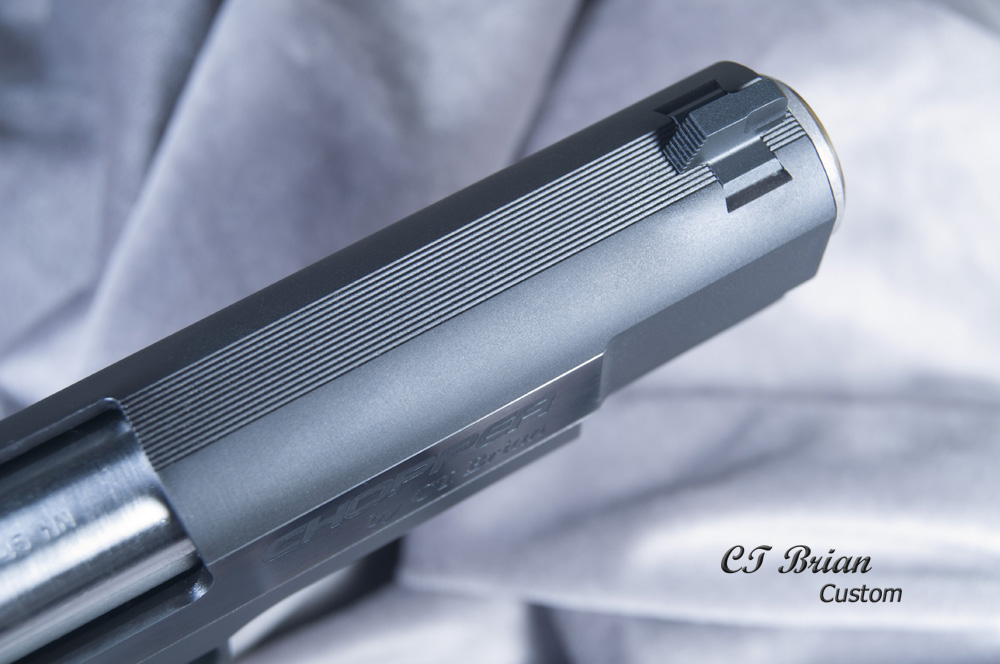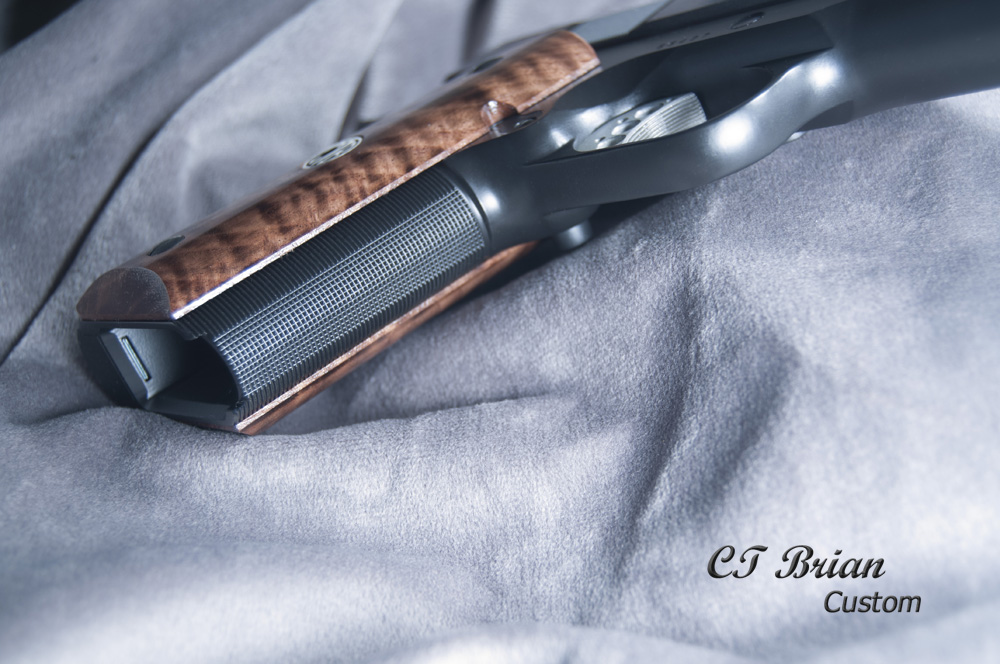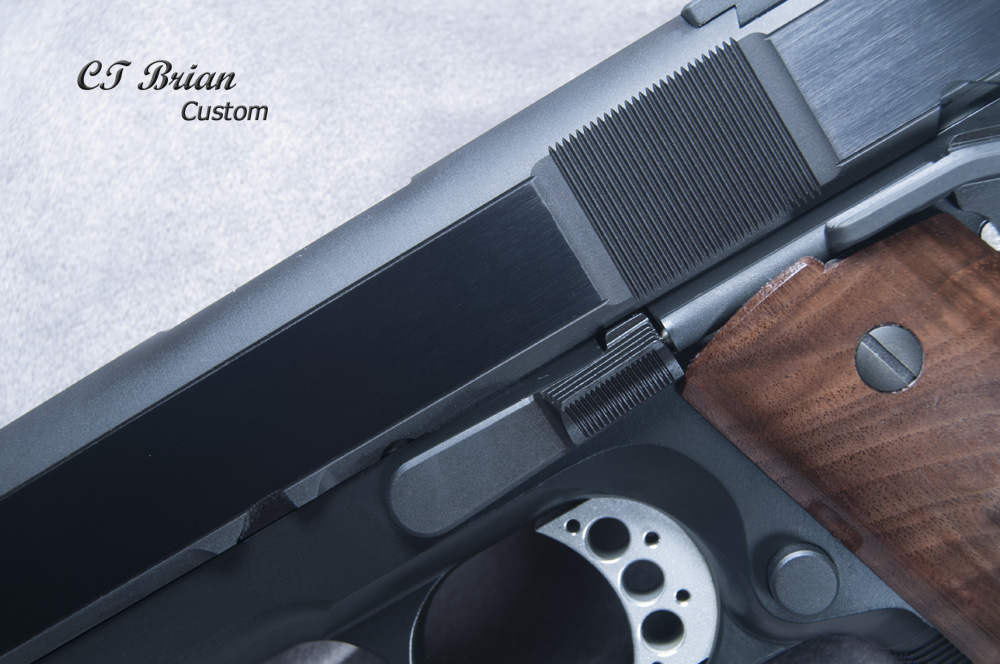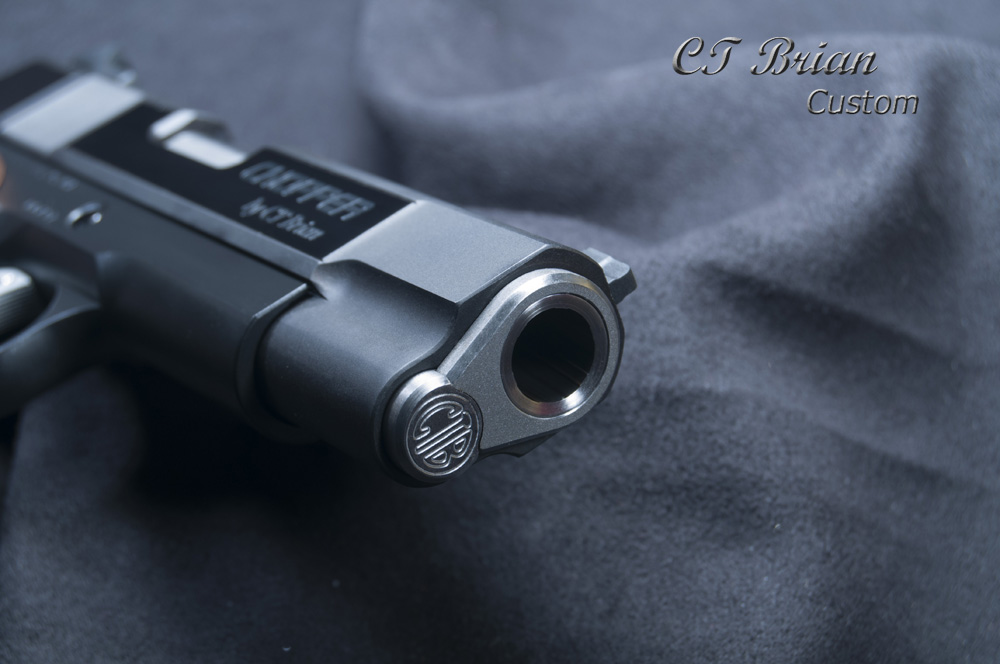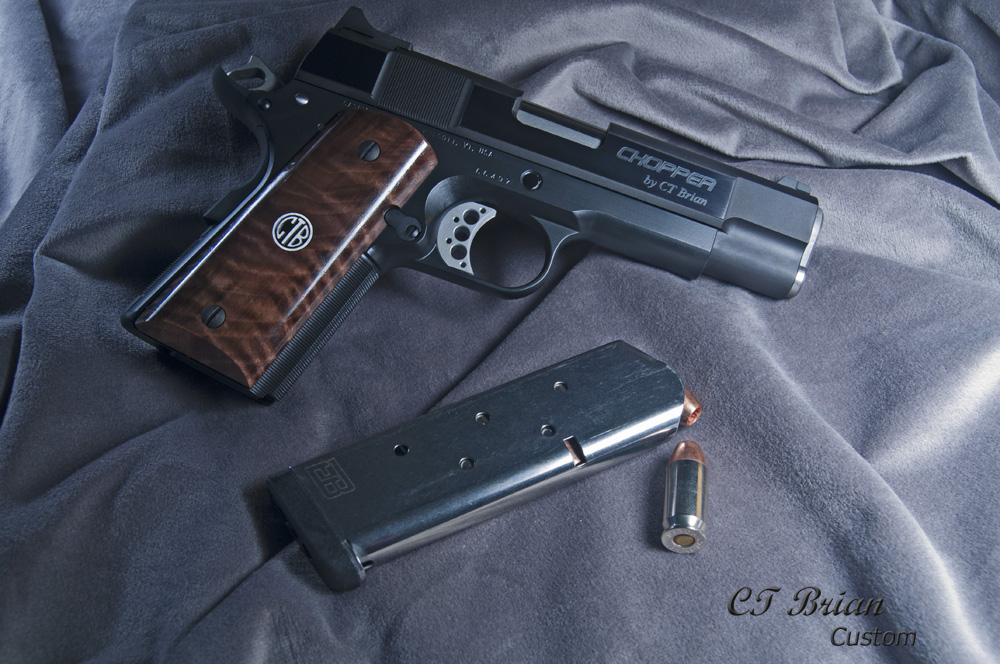 The CHOPPER
The CHOPPER is based on a CCO - The Commanding Officer, an officer's size frame topped with a commander length slide. A perfect combination for concealed carry.
The frame is made of aluminum and the slide is carbon steel. This results in a very light weight package that offers excellent concealability coupled with a quick and accurate sight picture. The 4 1/4" barrel allow bullet velocity that will assure reliable expansion when using quality hollow point ammunition.
The CHOPPER, available only in 45 ACP, is a very limited custom.
The CHOPPER consists of:
Aluminum Officer's-size Frame
Steel Commander-length Slide
Quality Tooled Steel Internal Parts
Match Barrel with Flush Crown
Fit and Lap Oversize Slide to Frame
Extreme Low Mount Fixed Sights
Dovedtailed Front Sight
Lowered and Flaired Ejection Port
Extended Ejector
Match Grade Extractor
Shortened High Sweep Beavertail Grip Safety
Extended Thumb Safety (tactical)
Aluminum Match Trigger
Commander Style Hammer
Trigger Job (4 lb)
Titanium Hammer & Strut Mainspring Cap
Smoothed and Contoured Magazine Release
Beveled Magazine Well
Rounded Butt of Frame
Hybred Checkered Front Strap
Contoured and Hybred Checkered Aluminum Mainspring Housing
FlatBacked and Serrated (40 lpi) Rear of Slide and Sight
Millled Flat and Serrated (40 lpi) Top of Slide
American Border Slide
High Power Cuts to Slide
Detail Complete Pistol
Master Grade Blue Slide & Small Parts
Hard Anodizing of Aluminum Frame & Mainspring Housing
Custom Etching of Slide
Smoothed and Contoured Grips
Two Magazines, Tuned
_________________
CT Brian Custom
'Blending Art With Firepower'